Denon Envaya Mini DSB-100 Review: Affordable High-End Wireless Speaker
Denon Envaya Mini DSB-100 Review: Affordable High-End Wireless Speaker
by
Ali Pardiwala
,
25 March 2015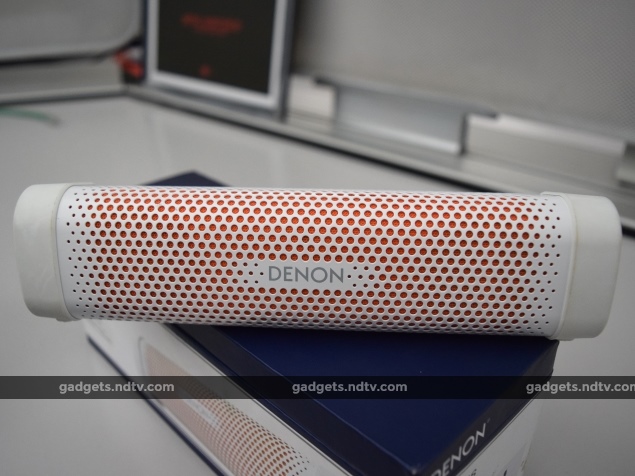 Denon, which started out as 'Nippon Chikuonki Shokai' making gramophones and single-sided disc records, is today a household name in its native Japan. The Denon brand name originated in 1947, when the company merged with Japan Denki Onkyo. It's now a part of the Denon & Marantz group, which is one of the largest audio conglomerates in the world. Denon is known for its high-end AV receivers, headphones, Blu-Ray players, and now, wireless speakers.
Denon has tried its hand at Bluetooth speakers before, but the new Envaya range is a serious foray into the segment. The smaller (and less expensive) of the two new Envayas is the Rs. 12,500 DSB-100, also known as the Envaya Mini. This slim and compact wireless speaker competes with similar models from JBL and Bose, but is it up to the mark? We find out in our review.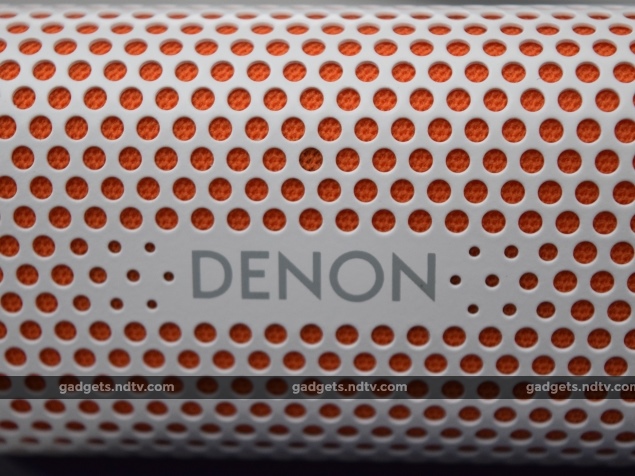 Design, specifications and features
The Denon Envaya Mini DSB-100 features two 40mm full-range drivers and a passive radiator, which help the device get loud. Audio input is either via a 3.5mm stereo cable or Bluetooth, which also supports A2DP and AptX. The device also NFC for quick pairing, and allows up to eight devices to be paired at any time. The DSB-100 weighs 508g, which is surprisingly heavy for something this small and slim. The box includes a charging cable and carrying case.
Straight out of the box, we're taken by how beautifully designed the Denon Envaya Mini is. It's encased in a dotted metal grille over a fabric coating. There are two colour options – black metal with blue fabric, and white metal with orange fabric. Our review sample was the latter, and is the better looking of the two in our opinion.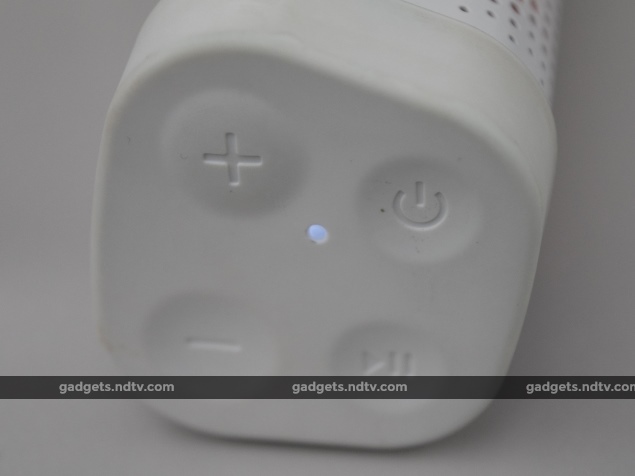 The sides of the device are rubber-coated, with the power, volume and play/pause controls on the right and the battery indicator and ports on the left. The button labels are a little tricky to read, but the majority are recessed and easy to find with your fingers. Only the volume up key sticks out, which is a neat touch that helps your fingers differentiate the buttons from each other.
The ports are hidden behind a flap when not in use, and there's an LED battery level indicator that lights up with a single touch of a button. The NFC contact is on the top left, and it worked flawlessly when we paired the Denon Envaya Mini DSB-100 with an HTC One (M8) (Review | Photos).
The speaker is oddly inclined due to its shape and small feet. As a result, placement is important, and we had to position it a little further away from us than we usually would. This ensures that audio is dispersed properly with you in the sweet spot.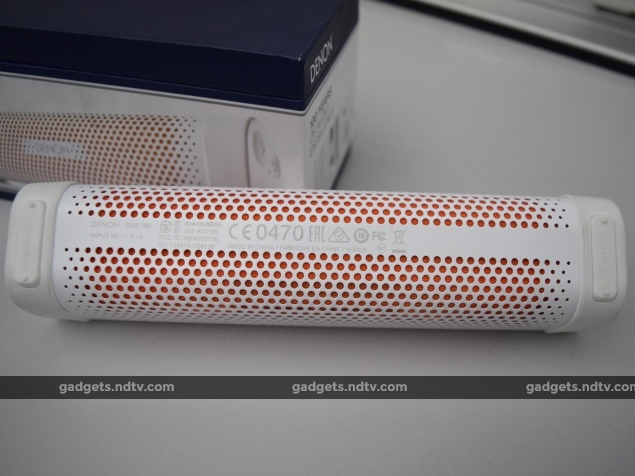 Performance
The Denon Envaya Mini DSB-100 is one of the easiest wireless speakers we've used. It paired with our test smartphone easily, and then reconnected within a couple of seconds every time it was switched on.
We played a handful of compressed and high-resolution audio files off our HTC One M8 to review the Denon Envaya Mini. Our focus tracks were MGMT's Time To Pretend and Michael Jackson's They Don't Really Care About Us in 16/44.1 FLAC, and Nucleya's Bell Gadi and Caravan Palace's Je M'Amuse in 320kbps MP3.
Sound performance is decent, but not quite as good as that of the Bose Soundlink Mini or Creative Sound Blaster Roar. The Denon Envaya Mini
DSB-100 has a sonic signature that we like to call 'party'. It is loud and punchy with strong bass handling, along with satisfying mids and highs. Bell Gadi and Je M'Amuse both revealed the DB-100's ability to get loud and powerful, with enough drive and attack to wake up the neighbours.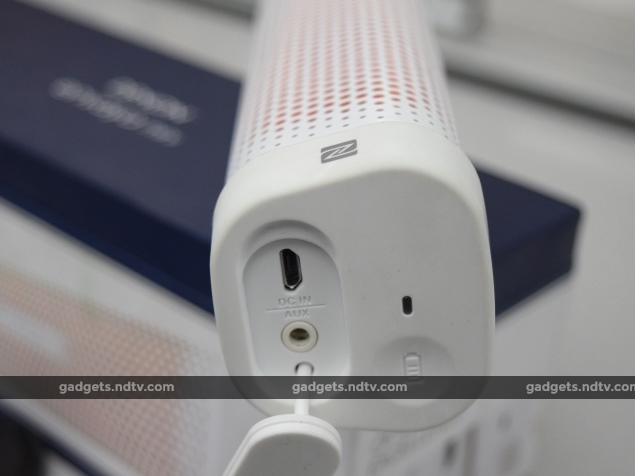 Soundstaging is impressive for a speaker of this size. The Envaya Mini does a good job of creating a proper vertical soundstage, especially when we tried it with They Don't Really Care About Us. Michael Jackson's charged-up vocals truly felt like they were coming from dead centre.
Unfortunately, imaging is a weakness of the speaker. There was almost no audible separation of elements, with Time To Pretend and They Don't Really Care About Us both sounding two-dimensional and jumbled-up at times.
Battery life is claimed to be up to 10 hours on a single charge, but we managed to get about seven hours at slightly higher than half volume. For most people, this figure will be acceptable. It is about the same as what you would get from the Creative Sound Blaster Roar, despite the Envaya Mini weighing half as much and likely having a smaller battery.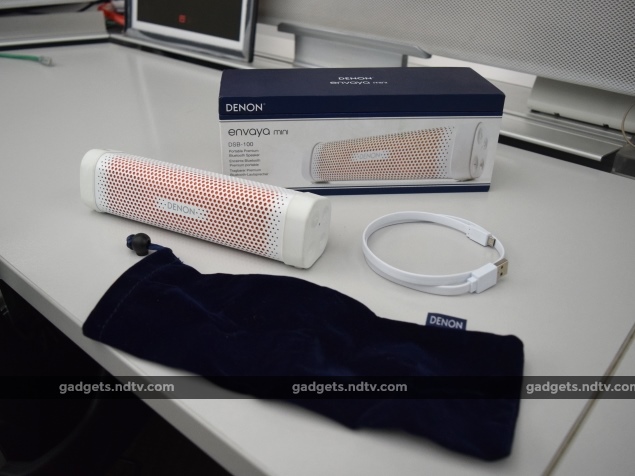 Verdict
The portable wireless speaker segment has traditionally been dominated by JBL and Bose, so it's a refreshing change when big name brands such as Denon introduce new products. The Envaya Mini DSB-100 slots itself conveniently between the Bose Soundlink Mini and Creative Sound Blaster Roar on one end and the JBL Pulse on the other. It offers a sound that is punchier than JBL's, but not quite as clean and open as Bose's and Creative's.
If you're in the market for a good portable wireless speaker, the Denon Envaya Mini DSB-100 is definitely worth an audition. Although battery life is average and it lacks openness, it more than makes up for those shortcomings with an attacking, exciting sound that is sure to liven up your house parties.
Price (MRP): Rs. 12,500

Pros
Looks great
Warm, punchy and exciting sound
Capable of loud volumes
Easy to pair and use
Cons
Could be more open, occasionally sounds two-dimensional
Average battery life
Ratings (Out of 5)
Design: 4.5
Performance: 3.5
Value for money: 3
Overall: 3.5
Tags:
Bluetooth,Bluetooth Speaker,Denon,Denon Envaya Mini,Denon Envaya Mini DSB-100,Denon Envaya Mini DSB-100 Audio,Denon Envaya Mini DSB-100 Features,Denon Envaya Mini DSB-100 Performance,Denon Envaya Mini DSB-100 Pictures,Denon Envaya Mini DSB-100 Price,Denon Envaya Mini DSB-100 Price In India,Denon Envaya Mini DSB-100 Review,Denon Envaya Mini DSB-100 Sound,Denon Envaya Mini DSB-100 Sound Quality,Denon Envaya Mini DSB-100 Specifications,Speaker,Wireless Speaker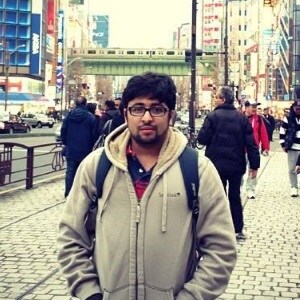 Resident audiophile. Spoilt South Bombay brat. Would rather be on a beach somewhere, but needs the money and likes writing.
Idea Cellular Launches 3G Services in Delhi
God of War III Remastered Coming to PS4 on July 14